Brit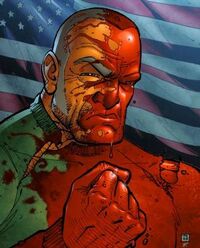 Characteristics
Status
Origin
History of character is unknown.
Character Powers and Equipment
Powers and AbilitiesEdit
Powers
Abilities
ParaphernaliaEdit
Equipment
Appearances, Images, and Quotes Edit
Brit starred in three one-shots: "Brit" (July 2003), "Brit: Cold Death" (December 2003), "Brit: Red, White, Black and Blue" (August 2004). Robert Kirkman wrote the three one-shots with Tony Moore illustrating the first and second issue and with Cliff Rathburn on the third. The one-shots have been collected in a trade paperback and was released in March 2007.
In August 2007, Brit was launched as an ongoing full-color series written by Bruce Brown and features Rathburn's debut as an ongoing series artist. This series is not canon.

ReferencesEdit