Cougar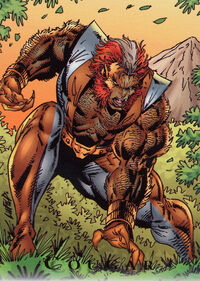 Real Name
Daniel Tsuchida
Relatives
Megan Tsuchida(mother), Khylund(father,deceased)
Characteristics
Hair
Red
, White streak down the middle
Status
Occupation
Government Agent
Origin
Origin
Human/Jakarran hybrid - Nu-gene active
Place of Birth
The Congo Basin, Zaire, Africa
Daniel Tsuchida is a comic book superhero named Cougar from the Image Comics series Youngblood.
In 1967 the paleobotanist Megan Tsuchida was captured by the Jakarrans, while on an expedition in Zaire. While in captivity, she and one of her captors, king Khylund, fell in love and Daniel Tsuchida (aka Cougar) was borne. The birth of a half-breed was an offense to the Jakarrans, so Khylund and Megan had to escape. During the escape Khylund died ensuring the escape of Megan and Cougar. Megan returned to America where she raised Cougar. Later Cougar was offered a position in Youngblood which he accepted.
Cougar became the leader of the Jakarrans when he bested Lynx, the leader of the tribe, who had kidnapped his mother. After the fight, he went back with Youngblood but remained leader of the Jakarrans.
Character Powers and Equipment
Powers and AbilitiesEdit
Powers
Cougar has the cat-like abilities inherent in his Jakarran ancestry.
Abilities
Appearances, Images, and Quotes Edit
ReferencesEdit
Ad blocker interference detected!
Wikia is a free-to-use site that makes money from advertising. We have a modified experience for viewers using ad blockers

Wikia is not accessible if you've made further modifications. Remove the custom ad blocker rule(s) and the page will load as expected.