Donald Ferguson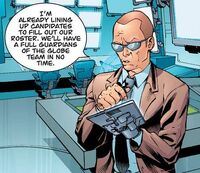 Real Name
Donald Ferguson
Characteristics
Unusual Features
Cybernetic implants made to look like human skin.
Status
Origin
Donald Ferguson is Cecil Stedman's assistant, Guardian of the Globe contact, robot/ ex-superhero, and an Agent of the Global Defense Agency.
Character Powers and Equipment
Powers and AbilitiesEdit
Powers
Appearances, Images, and Quotes Edit
ReferencesEdit
Ad blocker interference detected!
Wikia is a free-to-use site that makes money from advertising. We have a modified experience for viewers using ad blockers

Wikia is not accessible if you've made further modifications. Remove the custom ad blocker rule(s) and the page will load as expected.