Fard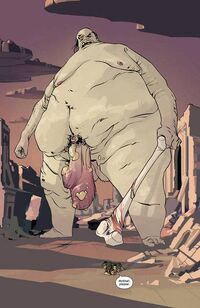 Characteristics
Unusual Features
Triclops
Origin
First appearance
Last appearance
Fard is a gigantic triclops on the planetoid that Marko and Klara visited when searching for Izabel.[1]. After becoming subdued, he revealed to them that the planetoid was actually an egg that would hatch soon.[2]
Character Powers and Equipment
Powers and AbilitiesEdit
Powers
Appearances, Images, and Quotes Edit
ReferencesEdit
Ad blocker interference detected!
Wikia is a free-to-use site that makes money from advertising. We have a modified experience for viewers using ad blockers

Wikia is not accessible if you've made further modifications. Remove the custom ad blocker rule(s) and the page will load as expected.