Freddy Chtonic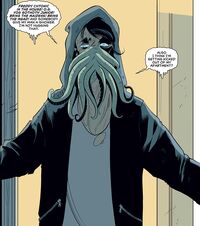 Characteristics
Unusual Features
Octopus Face
Origin
Freddy Chtonic is a supernatural living in Los Angeles. He is friends with Antoine Wolf. When he had his rent raised 25% by his vampire landlord, he asked Wolf for help.[1]
When Gibson became nervous about his investment in asking Wolfe to perform work for him, he had Simmons tail Wolfe as he went about his day.[2]
When they learned he was planning on freeing his brother from Prison, they kidnapped his friend, Freddy Chtonic.[3]
Appearances, Images, and Quotes Edit
ReferencesEdit
References
ReferencesEdit
Ad blocker interference detected!
Wikia is a free-to-use site that makes money from advertising. We have a modified experience for viewers using ad blockers

Wikia is not accessible if you've made further modifications. Remove the custom ad blocker rule(s) and the page will load as expected.