Gridlock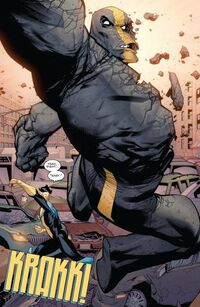 Characteristics
Origin
Nolan Grayson, before he was Omni-Man, stopped Gridlock from killing an innocent bystander. Nolan later married the bystander, Deborah Grayson. 20 years later, Omni-Man stopped Gridlock again. Later still, Omni-Man's son, Invincible (Mark Grayson), defeated Gridlock.
Character Powers and Equipment
Powers and AbilitiesEdit
Powers
Appearances, Images, and Quotes Edit
ReferencesEdit
Ad blocker interference detected!
Wikia is a free-to-use site that makes money from advertising. We have a modified experience for viewers using ad blockers

Wikia is not accessible if you've made further modifications. Remove the custom ad blocker rule(s) and the page will load as expected.