Herb Urlacher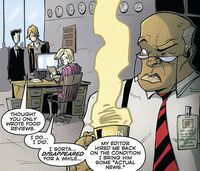 Real Name
Herbert Urlacher
Current Alias
Herb Urlacher
Characteristics
Status
Origin
Herb is the editorial chief for the Mercury Sun. Herb was held hostage by a gang of individuals wanting to hijack his paper to print propaganda against the FDA.
He later agreed to hire Amelia Mintz back to write as long as she reported on real news as opposed to her previous food critic articles.

Appearances, Images, and Quotes Edit
ReferencesEdit
Ad blocker interference detected!
Wikia is a free-to-use site that makes money from advertising. We have a modified experience for viewers using ad blockers

Wikia is not accessible if you've made further modifications. Remove the custom ad blocker rule(s) and the page will load as expected.