John Doe Killer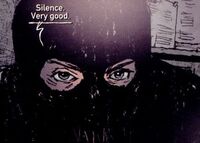 Real Name
John Doe Killer
Characteristics
Origin
The John Doe Killer worked with agent Dave Hunt to kidnap people and physically and verbally dominate them in sex tapes. These tapes were sent to Sam Burke since he was a loner.[1] Jimmy Murphy ultimately helped deliver information on JDK's killer location due to calls from his partner Agent Hunt. They were brought down by Sam and Twitch Williams.[2]

Appearances, Images, and Quotes Edit
ReferencesEdit
Ad blocker interference detected!
Wikia is a free-to-use site that makes money from advertising. We have a modified experience for viewers using ad blockers

Wikia is not accessible if you've made further modifications. Remove the custom ad blocker rule(s) and the page will load as expected.