Johnny Barracuda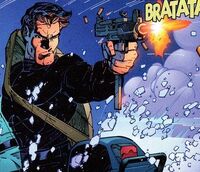 Current Alias
Johnny Barracuda
Characteristics
Status
Origin
Johnny Barracuda (real name unknown) is a handsome CIA agent with a large ego and a sex drive to match. He collaborates with the Danger Girls on various missions; they seem to enjoy taking sexual potshots at each other.

Appearances, Images, and Quotes Edit
Johnny Barracuda is based on J. Scott Campbell himself.
Barracuda visually resembles actor Bruce Campbell, who wrote the foreword to the Danger Girl trade paperback.

ReferencesEdit
---
This article is a stub you can help The

Comics Wiki by expanding it.
---
Ad blocker interference detected!
Wikia is a free-to-use site that makes money from advertising. We have a modified experience for viewers using ad blockers

Wikia is not accessible if you've made further modifications. Remove the custom ad blocker rule(s) and the page will load as expected.