Combat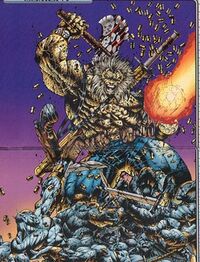 Characteristics
Status
Occupation
Government Agent
Origin
Kh'ambt was an accomplished soldier for the Katellan forces. He had been trained under the renowned Admiral Kh'rk. However, despite a promising career, he got accused of orchestrating a plot to overthrow the Katellan Emperor. Kh'ambt escaped with the Acuran Photon. He sought political asylum in exchange for knowledge of Katellan technology. He joined the government operated Youngblood program until its original demise. He then returned to space and the Katellan people.

Appearances, Images, and Quotes Edit
ReferencesEdit
Ad blocker interference detected!
Wikia is a free-to-use site that makes money from advertising. We have a modified experience for viewers using ad blockers

Wikia is not accessible if you've made further modifications. Remove the custom ad blocker rule(s) and the page will load as expected.