Lucan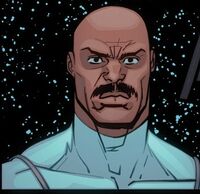 Characteristics
Origin
Origin
Lucan is thousands of years old and was born on Viltrum [1]
Serving The Viltrum Empire
Lucan would find Allen the Alien eating at a Talescrian restaurant with two other Viltrumites.[2] After interrogating him about Nolan and his son, The trio attempt to kill him and dismember, disembowel, and hit with enough pressure to where his eye popped out. They leave, leaving Allen to die in space.[3] The trio would go to Thraxa in search of Nolan and lay waste to the planet. Lucan discovers Mark in the cave and tells him that he will serve by his side if he wins, or die if doesn't.[4] Lucan looks in shock at the fact that he is defending Andressa and Oliver Grayson. Andressa moves to the end of the cave and Mark punches him so that the three of them can escape. Lucan remarks that he will never advance in rank if he lets his guard do. He manages to catch up to the three, but Nolan attacks him. Nolan emerges victorious from their battle with Lucan's blood all over his hands.[5] After Mark and Nolan battled their two Viltrumite opponents, Lucan emerges though Nolan thought he was die. He breaks Nolan's back while he holds up his intestines. He mocks him for not making sure he was dead and succumbs to his injuries, losing consciousness. He is transported by the Viltrumites to have his injuries tended to.[6]
Viltrumite War

Lucan would be one of the man Viltrumites that fight in the Viltrumite War. He would go with Conquest and unnamed Viltrumite to intercept Mark, Nolan, Oliver, Allen, and Tech Jacket (Zack Thompson). He would briefly dominate Oliver before fighting Nolan, hoping to get revenge on him. After the Graysons disappear with Conquest, he goes with the Viltrumite and retreat to Viltrum.[7] He would battle the Coalition of Planets again and survive Viltrum's explosion. He would retreat with the Viltrumites to Earth after their battle ended.[8] Lucan would hide among Humans there and take the appearance of a businessman [9]
Post Viltrumite War
Sometime during his time on Earth, he would find a mate and grow to love her, showcasing that Earth has changed him like Nolan and Kregg He would be reprimanded by Thragg for only having offspring with one woman. He would defend his actions as he says that his mate was hurt by someone who cheated on her and that he wouldn't want to do that to her. An angry Thragg tells them to leave and Lucan continues to say that he hasn't exposed himself to Earth.[10]
Character Powers and Equipment
Powers and AbilitiesEdit
Powers
Lucan possesses all the powers of Omni-Man and Invincible. Like all Viltrumites, he has superhuman strength, superhuman speed, invulnerability, flight, decelerated aging, enhanced healing factor, interstellar travel, enhanced lung capacity, etc.
Viltrumite Physiology
Viltrumite Weaknesses

Vulnerability to Ear Balancing: When a Viltrumite's equilibrium in their ears is disturbed, mainly by frequency, it can cause extreme pain and may even possibly kill them. Depending on how strong the frequency is determines that pain of attack.
Appearances, Images, and Quotes Edit
ReferencesEdit
References
ReferencesEdit
Ad blocker interference detected!
Wikia is a free-to-use site that makes money from advertising. We have a modified experience for viewers using ad blockers

Wikia is not accessible if you've made further modifications. Remove the custom ad blocker rule(s) and the page will load as expected.