Home
Talk

3
3,387pages on
this wiki
Samantha Eve Wilkins is a superhero, who appears in the comic book Invincible, which is published by Image Comics. Her codename is Atom Eve. She has the dramatic ability to alter the atomic structure of almost everything around her. These powers are as minor as converting her clothes into a superhero costume, or transforming an entire section of African savanna into a split-level house. Despite her enormous powers, Eve is insecure about how others view her and her abilities.

Did You Know...

---
Random image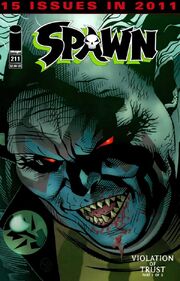 With 3,074 images on our database, there is no shortage of comic cover art, fan-art, or pictures of your favorite characters and teams.
This image has been randomly selected from our database. Each time you visit our site, you should see a new image here. For more information about it, click directly on the image. The resulting page will detail when it was uploaded, by whom, and often overview which articles use that particular image.
Please visit our character, cover art and fan art galleries and feel free to upload as many images as you like. We have categorized our images into several groups, for easier future reference. Have fun!
July 29th, 2008 The Image Comics Database Project is officially a sister site of the Marvel, DC and Dark Horse Database Projects.
Mar 9th, 2008 The original reality-TV heroes make their triumphant return in Wildguard: Insider, a three-issue mini-series
Feb 14th, 2008 Cryptozoology received a frightening re-imagining in the pages of Alex Grecian & Riley Rossmo's Proof and the uninitiated can catch up this May with the series' very first collection.
Todo List
Merge: No pages to merge!
Affiliates
---
---