Welcome to the Image Database Wiki
Featured Comic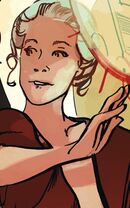 Stel Caine, an eternal optimist, finds herself stuck in a world with no hope. The sun has gone supernova and will soon destroy all of humanity. Her family fights for survival as the dredges of society attempt to pull them down and give up on their hope of finding a new world.
Read more about Low and its characters on the Low Wiki!
Random Image
With 6,766 images on our database, there is no shortage of comic cover art or pictures of your favorite characters and teams.
This image has been randomly selected from our database. Each time you visit our site, you should see a new image here. For more information about it, click directly on the image. The resulting page will detail when it was uploaded, by whom, and often overview which articles use that particular image.
Please visit our character and cover art galleries and feel free to upload as many images as you like. We have categorized our images into several groups, for easier future reference. Have fun!
This Week's Comics
No TPB of HC found to be released this week.
---
Ad blocker interference detected!
Wikia is a free-to-use site that makes money from advertising. We have a modified experience for viewers using ad blockers

Wikia is not accessible if you've made further modifications. Remove the custom ad blocker rule(s) and the page will load as expected.