Characteristics
Status
Origin
History
Amanda is a comic book superhero named Monster Girl from the Image Comics series Invincible.
Origin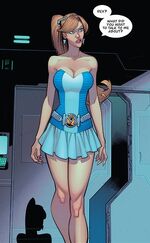 Amanda had enrolled into a school for academically honored students and was able to afford being a school that was mostly for richer children. She would take a class trip to Europe and graduate school in two years earlier than regular students. She would fall in love with a boy, whose grandmother didn't approve of their relationship. One day, she would sleep with that boy and his grandmother would see. The boy's grandmother was a practitioner of magic. She would curse a strand of her hair and on the plane ride back, she would cry after seeing her monster form. She would not know how to control her monster form, but eventually with practice would be able to transform at will. However, the effects of her transformation would cause her aging to reverse, causing her to get younger with each transformation. She would use her transformation to fight crime under the alias, Monster Girl and eventually continue fighting crime, despite the adverse effects of her transformation.[1]
Powers and AbilitiesEdit
Powers
Transformation: Due to a curse placed on her, Amanda can transform into a troll like monster being at will. At first, she wasn't able to control it, but would eventually gain control of it through practice. Her monster form grants her the following ability.
Abilities
Weaknesses
Reversed Aging: When Amanda reverted back to human form, her cells would rebuild, but would do so incorrectly. This had caused her to get younger with each time she used her monster form. However, her monster form would grow larger as she got younger. When she made her debut, she was 29, but had the appearance of a 12 year old girl. Robot would soon discover this problem and come up with a situation. She would be given a belt that by Robot that would store part of her original cells when she transforms and keep them until she reverts back, helping her maintain her physiological age. With this and being in the Flaxan dimension for nearly thousand years, she would have a more adult-like appearance.

ParaphernaliaEdit
Equipment
Anti-Reverse Aging belt: Amanda was given a belt by Robot to combat her reverse aging side effect of her monster form.

Although physiologically female, Amanda was able to mate with a female Flaxan in her monster form and produce offspring.
Links
Discover and Discuss