Shrinking Ray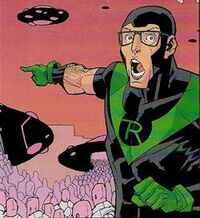 Current Alias
Shrinking Ray
Base Of Operations
Guardians of the Globe HQ
Characteristics
First appearance
Appearance of Death
Shrinking Ray is a former member of the Guardians of the Globe who had the ability to shrink to small sizes. This power allowed him to be able to escape traps quite easily.
He was swallowed whole by Komodo Dragon.[1]
Character Powers and Equipment
Powers and AbilitiesEdit
Powers
Abilities
Appearances, Images, and Quotes Edit
ReferencesEdit
Ad blocker interference detected!
Wikia is a free-to-use site that makes money from advertising. We have a modified experience for viewers using ad blockers

Wikia is not accessible if you've made further modifications. Remove the custom ad blocker rule(s) and the page will load as expected.