Silver Agent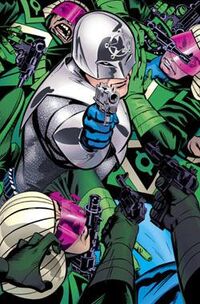 Current Alias
Silver Agent
Born in 1932, he fought crime in Astro City from 1956 to his death in 1973, when he was sentenced to death for the murder of the Maharajah of Maga-Dhor.
A statue as been erected to his memory in 1979 in Astro City's Memorial Park, to remember one of their greatest hero, and one of their darkest moment.
The inscription "To Our Eternal Shame" was added in 1985 at the statue's base.

Appearances, Images, and Quotes Edit
ReferencesEdit
Ad blocker interference detected!
Wikia is a free-to-use site that makes money from advertising. We have a modified experience for viewers using ad blockers

Wikia is not accessible if you've made further modifications. Remove the custom ad blocker rule(s) and the page will load as expected.