The Junkman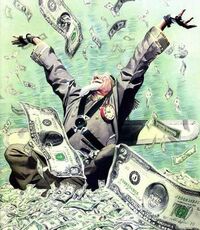 He builds Hi-tech gadgets from junk he finds here and there.
After a few robberies, he thought to retire to a life of travel, time with gorgeous women and hedonism, but seeing peoples reactions to the "heroes" even around the world frustated him out of his ennui and back into the supervillian scene.
After completing a spectacular series of robberies, he was stopped by Jack-in-the-Box. Arguably he allowed himself to become captured in order to escape his trial. He escaped during his trial and is now currently at large.

Appearances, Images, and Quotes Edit
ReferencesEdit
Ad blocker interference detected!
Wikia is a free-to-use site that makes money from advertising. We have a modified experience for viewers using ad blockers

Wikia is not accessible if you've made further modifications. Remove the custom ad blocker rule(s) and the page will load as expected.