Titan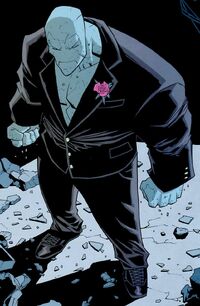 Characteristics
Unusual Features
In transformation, body covered in rock.
Status
Occupation
Leader of the Order organization in America(formerly)
Origin
The man known as Titan was the first supervillain that Mark Grayson ever fought. Before even having his Invincible costume, Mark patrolled and spotted Titan. Here's what happened:
Titan went on a diamond heist with two ordinary criminals. While the other two ran, the police started shooting at Titan, which didn't injure him but still irritated him. He caught up to the other two, and helped them jump over a fence, before being punched out and defeated by Mark Grayson.
Later, after Mark donned his costume, fought his father, and stopped an alien invasion, Titan tried to help out with the clean-up, but was attacked by Invincible who mistakenly assumed that Titan was going to cause trouble. After the misunderstanding was cleared up, Titan helped Invincible and Atom Eve.
Titan later reveals that he is a thug who formerly worked for Machine Head. He then helped Invincible defeat Machine Head, but secretly took control of the crime organization.
Titan can encase his body in super-strong, nearly invulnerable rock.
Character Powers and Equipment
Powers and AbilitiesEdit
Powers
Appearances, Images, and Quotes Edit
ReferencesEdit
Ad blocker interference detected!
Wikia is a free-to-use site that makes money from advertising. We have a modified experience for viewers using ad blockers

Wikia is not accessible if you've made further modifications. Remove the custom ad blocker rule(s) and the page will load as expected.