Titan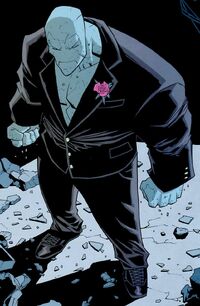 Characteristics
Unusual Features
In transformation, body covered in rock.
Status
Origin
Early villainy
Titan was a supervillain who was robbing a jewelry store, when he was stopped by the super-powered Mark Grayson.[1]
Later, after Mark donned his costume, fought his father, and stopped an alien invasion, Titan tried to help out with the clean-up, but was attacked by Invincible who mistakenly assumed that Titan was going to cause trouble. After the misunderstanding was cleared up, Titan helped Invincible and Atom Eve.
Titan later reveals that he is a thug who formerly worked for Machine Head. He then helped Invincible defeat Machine Head, but secretly took control of the crime organization.
Character Powers and Equipment
Powers and AbilitiesEdit
Powers
Appearances, Images, and Quotes Edit
ReferencesEdit