Widowmaker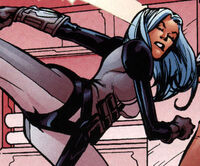 Characteristics
Status
Origin
Widowmaker is a comic book super-villain, appearing the Image Comics series Noble Causes. Created by writer Jay Faerber and artist Fran Bueno, Widowmaker first appeared in Noble Causes #18 (March 2006[1]), in which she was hired by Hunter Blackthorne to assassinate Captain Dynamo, which she did with poison. She then took a job to attack Race and Liz Noble, only to be double-crossed by the Blackthornes. Currently, she is in hiding in a safehouse provided by Slate Blackthorne. [2][3]

Appearances, Images, and Quotes Edit
ReferencesEdit
---
This article is a stub you can help The

Comics Wiki by expanding it.
---
Ad blocker interference detected!
Wikia is a free-to-use site that makes money from advertising. We have a modified experience for viewers using ad blockers

Wikia is not accessible if you've made further modifications. Remove the custom ad blocker rule(s) and the page will load as expected.